Service Advantage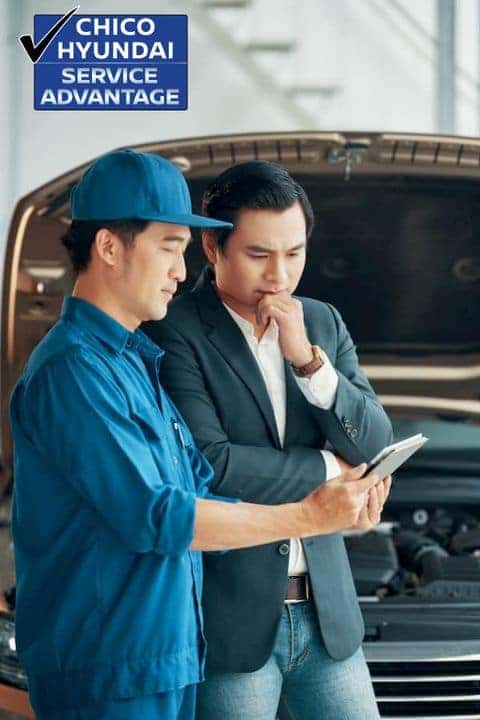 Price Match Guarantee
We will match any locally published price on any of our express services and tires. Combined with all the other great features of the Chico Hyundai Service Department, there is no reason to take your vehicle anywhere else. Our express services are available on most makes and models.*
Financing Available For Parts And Service
Don't put off important vehicle maintenance because of price any longer. Now you can get your vehicle serviced and back on the road safely while spreading the payments out over a manageable period of time.
(Parts and Service Financing is Powered By Sunbit)
Concierge Pickup and Delivery
Whether you fall into the "high risk" category or simply don't feel comfortable coming to the store, our Concierge Service is available to pick up your vehicle for service and return it when completed. Call for details, restrictions, and availability.
Express Service
Our express services are available on all major makes and models. That means you can also bring in your Ford, Honda, Chevy, or Toyota.
Certified Hyundai Technicians and Genuine Hyundai Parts and Accessories
Our certified Hyundai Technicians are factory-trained to diagnose and repair all Hyundais. We also use genuine Nissan parts and accessories.
Touchless Transactions
Our new touchless transaction system allows you to see a full list of your service visit, approve the price, and sign—all right on your phone.
Hyundai Rental Car Availability
Some vehicle repairs take a while, but you still need to get to where you're going. We've got you covered, with rental cars available on site.
Clean And Sanitize Surfaces
Our facilities offer ample space for the recommended social distancing recommendations of 6 feet, and our employees have been directed to respect this distance. Additionally, we have maintained our always-clean customer areas even more diligently and have created an in-house Cleanliness Crew, whose only job duties are the perpetual disinfecting of all shared customer areas and surfaces, as well as stocking up on sterilizing material throughout the facility. We will place covers over your seat, steering wheel and gear shifter to help address your service needs in the safest, most convenient way possible.
New Owners Clinics
New Hyundai owners can join us at our new owners clinics. We will go over the care and maintenance of your new vehicle with you, as well as show you how to use all the features of your new vehicle. New vehicle owners also get a complimentary first oil change.
*Chico Hyundai will price match any current published installed price from a local auto repair facility (within a 50 mile radius) for any of our Express Services listed below: Oil and filter change, Installation of engine and In-cabin air filters, Brake Fluid Exchange, New Tires and Tire Rotations, Alignments, Scheduled maintenance interval services, Battery service or replacement, Coolant Fluid exchange, Transmission Fluid exchange, Wiper blade replacement, Complimentary Multi-point Inspection. Customers must bring competitors' coupons, mailers or internet specials to our dealership for validation. Hand written price quotes do not qualify.